Early Literacy Resources
Websites

Multnomah County Library: "What is Early Literacy?" has a section that includes the six early literacy skills, dialogic reading, booklists, and brain development in children ages birth to six.
Hennepin County Library: This library's EarlyLiteracy web site includes book lists, fingerplays and songs, and video clips of reading aloud to children, as well as the six early literacy skills and web sites for parents and children.
Zero to Three: Early Language and Literacy is a web site from "Zero to Three," a nonprofit organization that provides information to parents and professionals to help improve the lives of infants and toddlers. This site includes links to articles and information on literacy and language development. It also provides tips for reading and sharing books with babies and toddlers, as well as tips on helping your child learn to talk.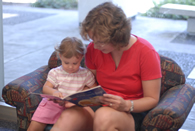 Reading is Fundamental (RIF): The RIF web site offers a wide variety of information about reading with children including how to motivate kids to read, how to create a literacy-rich environment, how to choose good books to read with your children, articles and resources for parents and educators, and much more.
Guys Read: Author Jon Scieszka's web site for boys of all ages includes book recommendations, statistics on boys and reading, starting a book club for boys, and much more. Worth checking out even if you're a girl.
Jim Trelease's Home Page: Author Jim Trelease's web site includes excerpts from his book The Read-Aloud Handbook, book lists, lectures, articles, websites, and more.
Education.com: The education.com web site is designedfor the parents of school-aged children, however, there is information on the early years, including information on development. There are resources for activities, education, online learning, and much more!
Books
Below is a list of books available at the Stanislaus County Library to assist parents and caregivers in developing their children's early literacy skills. If you click on the link it will take you directly to our catalog. If you would like a list to use at the library that includes the call numbers, please ask at the Children's Desk.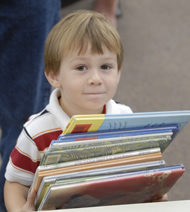 What to Read When: The Books and Stories to Read with Your Child and All the Best Times to Read Them by Pam Allyn.
Reading With Babies, Toddlers, and Twos: A Guide to Choosing, Reading, and Loving Books Together by Susan Straub.
Baby Play & Learn: 160 Games and Learning Activities for the First Three Years by Penny Warner.
The Baby's Game Book by Isabel Wilner.
The Between the Lions Book for Parents: Everything You Need to Know to Help Your Child Learn to Read by Linda K. Rath.
Great Books for Babies and Toddlers: More than 500 Books for Your Child's First Three Years by Kathleen Odean.
How to Get Your Child to Love Reading by Esme Raj Codell.
Motivated Minds: Raising Children to Love Learning by Deborah Stipek and Kathy Seal.

The Read-Aloud Handbook by Jim Trelease.
Read To Me: Raising Kids Who Love to Read by Bernice Cullinan.
Reading Magic: Why Reading Aloud to Our Children Will Change Their Lives Forever by Mem Fox.
Starting Out Right: A Guide to Promoting Children's Reading Success edited by M. Susan Burns, Peg Griffin, Catherine Snow.
Teach a Child to Read with Children's Books: Combining Story Reading, Phonics and Writing to Promote Reading Success by Mark Thogmartin.
Valerie & Walter's Best Books for Children: A Lively, Opinionated Guide by Valerie Lewis and Walter Mayes.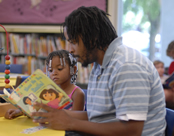 The Well-Trained Mind: A Guide to Classical Education at Home by Jessie Wise and Susan Wise Bauer.
What's Going on in There: How The Brain and Mind Develop in the First Five Years of Life by Lise Eliot.
Your Active Child: How to Boost Physical, Emotional and Cognitive Development through Age-Appropriate Activities by Rae Pica.
DVDs and Videos
Below is a list of DVDs and videos available at the Stanislaus County Library to assist parents and caregivers in developing their children's early literacy skills.
Success Starts With Reading: an early literacy message from parents to parents (15 minutes) - From talking to babies to playing with word sounds, parents share ways to foster children's early literacy skills and prepare them for learning to read.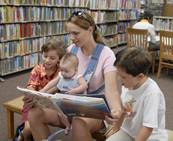 Hear and Say: Reading with Toddlers (18 minutes) - Hear and Say reading teaches parents, grandparents, babysitters and volunteers a simple way of reading stories with young children that encourages early language development. Using conversation about the story and pictures, Hear and Say reading helps build a child's vocabulary and sentence skills.
Read for Life --- Start Young by Susan Cassidy (40 minutes) - Using books and music from the Stanislaus County Library collection, children's librarian Susan Cassidy explains the hows and whys of reading to babies and toddlers.