Library App Information
Access your local Stanislaus County Library - Anytime, anywhere via the mobile app
The Stanislaus County Library has a free mobile application (app) powered by Boopsie. Access your library account, find the nearest branch, search the catalog and browse for books, CDs and DVDs while on the go.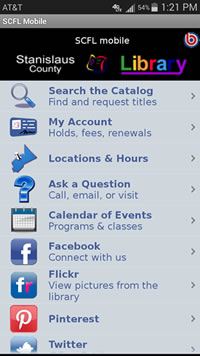 SCFL mobile, the mobile app for Stanislaus County Library, lets you locate and search your library catalog wherever you are. If you are a library card holder in and of the Stanislaus County Library below, you can locate books, movies, and more with easy search features designed for Mobile devices.
Are you on a mobile device? Download the FREE Stanislaus County Library App
Searching the catalog from the Stanislaus County Library Mobile App is easy. Just type in the first few letters of the words in your search to find what is in the catalog or download a FREE eBook or eAudioBook. For example, to search for "Mark Twain", just type "ma twa" and our Smart Prefix™ search will instantly deliver relevant results from your library, even if you are on the road and unable to make it in to your local branch.
What does it do?
Access your library's services 24/7 from your phone or tablet.
Search your library's catalog using our Smart Prefix Search
Check Your Account - Reserve and renew books, CDs and DVDs
Search the calendar, locate the nearest library branch, stay connected, and more.
How do I get the app?
Go to Stanislaus County Library App on your device's browser, to your device's app store to download the app, or scan this QR code on your phone.