Traveling Tales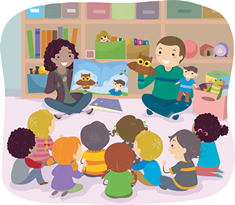 What is Traveling Tales?
It's a storytelling extravaganza in a box! Each themed kit contains 6-10 books, a puppet, a music CD, fingerplays, and instructions. Spanish materials included!
Who can participate?
Any adult with a current Stanislaus County Library card, including daycare providers, parents, preschools, Sunday schools, TK and Kindergarten teachers, and caregivers of all types!
Resources
Over 180 kits available
Themed kits for easy planning
Variety of storytelling materials
Spanish materials included
Pick up at any of the thirteen Stanislaus County Library branches
Check out for three weeks
Place holds in advance
Training optional
No special card required!
Traveling Tales Theme List available here.