eMagazine Information
RBdigital eMagazines update
On February 2, 2021, the digital magazines previously enjoyed from RBdigital were migrated to OverDrive. Any magazines that were offered through RBdigital are now available through the Libby by OverDrive app. Libby is a free, award-winning reading app from OverDrive.
Libby by OverDrive eMagazines - available now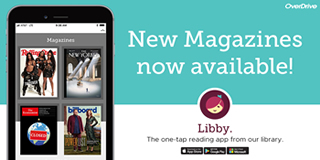 Check out and download from over 3,000 digital magazines in our new OverDrive Libby app on your smart device or the Libby app website on your computer.
Enjoy free access to thousands of digital magazines, including popular titles such as Better Homes & Garden, Vogue, Newsweek, and more. A valid Stanislaus County Library card is required. This app is for eMagazines only. eBook and eAudiobooks are available through cloudLibrary and Hoopla.
Getting Started with the Libby App
If using a smart device, download and install the Libby app onto your device through your app store.
If using a computer, visit the Libby app website.
Follow the prompts in the app or on the website. Enter you library card number and PIN when prompted.
Browse available magazine titles under categories such as Just Added, Most Popular, Lifestyle, News & Politics, and more, or use the Search function.
To check a magazine out, click Borrow and download the magazine you would like to read.
Magazines check out for 21 days. At the end of the 21 days, the magazines are automatically checked in.
Although there is no renewal option for the magazines, there is no limit to the number of times a magazine can be checked out. The number of magazines that can be checked out is unlimited.
A step-by-step guide and video tutorial on how to set up the Libby app is available here.
Visit the Libby Help page for additional information and help with the app.