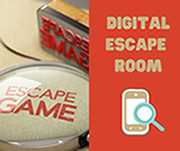 Library Virtual Escape Rooms
Welcome to Stanislaus County Library's Virtual Escape Page. Below you will find links to Virtual Escape Rooms created by library staff. We plan to add games monthly. In an Escape Room (also known as a Panic or Breakout Room), you are invited to discover clues and solve puzzles to achieve a certain goal. Virtual Escape Rooms are nice because you can either work alone or with a group, but you are not timed.
Here are some general guidelines to keep in mind:
If you are using a social media app to access this game, we recommend that you copy the link and open it in a browser. You may lose progress, or exit the game completely, if you are playing within an app.
If you find you want to go back to a prior screen, use the back button on the form, not on your browser.
We use two kinds of models for escape rooms: linear and nonlinear. In a linear escape room, you must solve one puzzle before you are allowed to go on to the next one. The escape room is usually in the form of a story, and you progress through the story by clicking on a button that is usually labeled 'next' or 'continue.' In a nonlinear escape room, you have access to all the puzzles at one time and can solve them in any order before you click on the 'submit' button. In this type of escape, there is a list of puzzle locks you need to open on one side of the screen and a picture on the other side of the screen. You find the puzzles by clicking on various parts of the picture.
With linear escapes, you cannot save the room, so you may want a piece of paper and pencil to keep track of your answers.
Don't be afraid of a wrong answer! You will either get a hint, find a red herring (a false clue), or encouragement to try again. Sometimes with multiple choice responses, a wrong answer just sends you back to the same page.
The puzzles themselves come in a variety of formats: a coded message, a hidden object, a picture with objects to count and put in order, or a jigsaw puzzle are just a few examples. Read everything; the clue may be hidden in the text or it may be a link that takes you to another site to watch a video or read an article.
Good luck!
---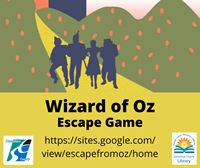 Wizard of Oz
This month's escape room is based on the Wizard of Oz. Take a walk down the yellow brick road and test your knowledge of the book, not the movie!
---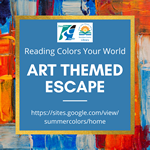 Reading Colors Your World
A new Art Themed Virtual Escape Room is featured this month to celebrate the Summer Reading Challenge, Reading Colors Your World.
---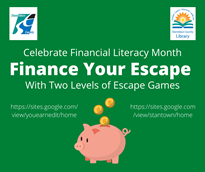 Finance Your Escape Room
April is Financial Literacy Month, and we have not one, but two Digital Escape Rooms. You Earned It! is for younger kids. Welcome to Stantown is for the tween/teen and older audience. What a fun way to learn about financial matters.
---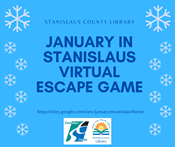 January in Stanislaus
It's January in Stanislaus. The New Year's begun. Check out this Virtual Escape Room for some wintertime fun!.
---

Banned Books Week Room
Welcome to Banned Books Week, a time when we celebrate the freedom to read. Enjoy this digital escape room game.
---

Women's Suffrage Room
In recognition of the 100th anniversary of the passage of the 19th Amendment to the Constitution, giving women the right to vote in the United States, we invite you to play this digital escape room game. Learn about the Women's Suffrage Movement and meet some of the people involved in the effort to give women the right to vote.
---

Heroes of Mythology Room
Discover heroes of Greek Mythology in this new escape room available here.
---

Baseball Escape Room
Wish you could go to a baseball game? This digital escape room is a fun virtual baseball experience. Look for baseball-themed reading suggestions for kids and adults too!
---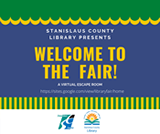 Fair Escape Room
It's time for summer fun at the fair! Explore all areas of the virtual fair to find the clues in this fun escape room!
---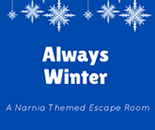 Narnia Escape Room
Enjoy this Narnia themed escape room. It's winter in Narnia, all because of Jadis the white witch and her wand. Can you stop Jadis by finding and taking her wand.
---

Library Escape Room
Have fun with this library themed digital escape room, created by library staff as part of our Summer Reading Challenge Kickoff. Find the clues hidden in the bookshelf image.